VacuLUX™ Air Portable Isolation System
Quickly and easily add modern isolation to any dental chair with the VacuLUX Portable Isolation System. Move this system from room to room & provide a more comfortable patient experience with the ultra-lightweight Feather Flex™ portable vacuum line, compatible with any standard HVE valve. Adapters compatible with VacuLUX and Dryshield or Isolite brand mouthpieces. 
Curion is the ONLY authorized distributor of Ascentcare Dental products in Canada. This product is backed by the manufacturer's warranty.
View Videos and Product Details
Features and benefits of the VacuLUX™ HVE adapter include:
Attach to any HVE valve

Compatible with your existing standard HVE valve, no additional complicated installation of proprietary valves is needed.

VacuLUX, Dryshield & Isolite mouthpiece compatible

Use with Dryshield or Isolite & VacuLUX brand mouthpieces.

Optional Intraoral Illumination

Built-in magnetically coupled fiber optic light guides in every adapter to flood your work area with bright, white light powered by the HyperLUX light engine (sold seperately).

Lightweight Aluminum Construction

Constructed with aerospace grade aluminum, this adapter is durable, light and won't need costly replacement over time.

Autoclavable, One-Piece Design

Save time by quickly autoclaving the one-piece adapter for reuse. No assembly or disassembly of the adapter is needed.
Features of the Feather Flex™ Kit include:
Ultra Lightweight (70% lighter than standard HVE line)
Flexible with kink-proof inner coil
Works with any HVE Valve
Vacuum line clip for convenient instrument docking
Aluminum HVE instrument coupler for use with the VacuLUX adapter, VacuVUE mirror or your HVE suction tips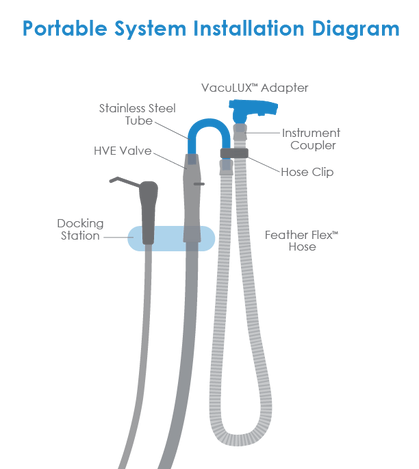 Make the Switch to the VacuLUX Isolation Mouthpiece
Introducing the VacuLUX Mouthpiece from Ascentcare Dental Products. Discover the features worth making a switch to these autoclavable isolation mouthpieces for use with the VacuLUX Isolation System, and compatible with Dryshield and Zyris Isolite isolation systems
The Whisper Lite Kit and Accessories
The Whisper Lite Kit from Ascentcare Dental Products is a handy addition to any HVE system. Couple with the VacuVUE HVE mirror for a kink-free lightweight hose that is easy to maneuver. Use with the VacuLUX HVE adapter for a more comfortable patient experience.
The VacuLUX HVE Adapter Illuminated by the HyperLUX light engine
Demonstration of Ascentcare Dental Product's VacuLUX Illuminated HVE Adapter and HyperLUX light engine.
VacuLUX Adapters/Mouthpiece - How to Install