Luxatemp Fluorescence
For superior aesthetics.
High fracture and abrasion resistance material
Produces lifelike provisionals
Provisionals look great in all lighting conditions
Provides durable and long-lasting temporary restorations
Excellent marginal adaptation, no need to remarginate
Provisional is easily removable
Negligible liner shrinkage during polymerization
More natural fluorescence
Outstanding color stability
Curion is proud to be an authorized distributor of DMG products in Canada. This product is backed by the manufacturer's warranty.

View Videos and Product Details
The temporary crown and bridge material for natural esthetics
With its superior aesthetics and unique handling, Luxatemp Fluorescence, fits perfectly into the Luxatemp family, so that clinicians can confidently choose the best temporary material to fit their clinical needs.
Perfect mechanical properties
Due to its high surface hardness Luxatemp is extremely abrasion resistant while easy to cut and polish. It has a Bisacryl composition for durable temporary restorations and the low shrinkage eliminates the need to remarginate and makes it easy to remove. Its neutral taste and odor provide greater patient acceptance.
Natural esthetics
The fluorescence of Luxatemp Fluorescence takes on the same dynamic reflective qualities as natural tooth structure creating a more lifelike appearance. Luxatemp Fluorescence makes temporaries look as good as final restorations in all lighting conditions. It is available in six shades all of which exhibit outstanding color stability.
Furthermore, Luxatemp is easily polished to a high gloss finish or can be varnished with LuxaGlaze permitting highly esthetic results and offering a reliable preview of the final result.
Luxatemp Fluorescence Physical Properties
| | |
| --- | --- |
| Property | Value |
| Chemistry | Bisacryl |
| Mixing Ratio (Base/Catalyst) | 10:1 (Volume) |
| Compressive Strength | 250 MPa |
| Transverse Strength | 90 MPa |
| Diametrical Tensile Strength | 36 MPa |
| Barcol Hardness | 37 |
| Shrinkage | 0.45% |
| Water Sorption | 0.80 w.% |
| Maximum Temperature During Polymerization | 38 C/100 F |
---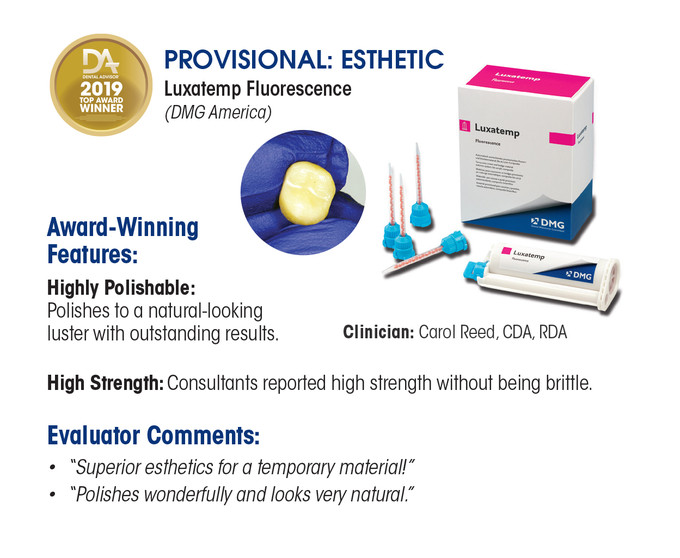 ---
"Having been in clinical practice for over 30 years and educating other dentists for the past 25, there are only a few products that stand out as the very best! One of these is Luxatemp. Since my initial use in 1996, to the restorative case I prepared and provisionalized yesterday, this is definitely a product I could not be without. Other provisional materials may claim they are equal to Luxatemp, but that is just not the case and no other provisional material has stood the test of time and proven its excellence like Luxatemp. I use it in my practice daily and it has been my material of choice in all of my live-patient hands-on courses for the past 20+ years."
— Dr. David S. Hornbrook
Quick guide for fabrication of provisionals with Luxatemp Ultra, Luxatemp Plus and Luxatemp Fluorescence.
Beadline Provisional Technique with Dr. Todd Snyder
Frequently Asked Questions
Yes, acrylic bonds to Luxatemp. Ensure surface is clean. Lightly abrade the pertinent spot on the restoration with a cutter or sandblaster. Apply monomer from acrylic to Luxatemp and then add acrylic to it.
Yes, ensure the area is clean. Then lightly abrade the area of the restoration with a cutter or sandblaster. Apply a bonding agent in accordance with the directions for use and add Luxatemp.

Luxatemp does not contain sulfur or sulfuric compounds such as sulfites.

When composite material sets, a very thin layer of non-hardened acrylic is present due to the presence of atmospheric oxygen that prevents the acrylic from setting completely.

The smear layer can be easily removed with alcohol.

Luxatemp Ultra: A1, A2, A3, A3.5, B1 and Bleach Light
Luxatemp Fluorescence: A1, A2, A3, A3.5, B1 and Bleach Light
Luxatemp Plus: A1, A2, A3.5, B1 and Bleach Light
Luxatemp is available in Automix cartridges for a 10:1 dispenser and Smartmix syringe.

You can make 34-38 single crowns from one cartridge.

You can make 23-25 three-unit bridges from one cartridge.

You can make approximately 10 single crowns from one Smartmix syringe.

You can make approximately 5 three-unit bridges from one Smartmix syringe.

Leave the used mixing tip on the cartridge as a cap.

The setting of the cement may be inhibited.

Bubbles can be avoided by keeping the mixing tip immersed in the material preventing air from becoming trapped.

Luxatemp does not contain gluten.

Yes, Luxatemp is biocompatible because it does not contain methyl methacrylates which minimizes the risk of an allergic reaction. Additionally, the temperature of Luxatemp Ultra during polymerization is low (approximately <40° depending on the measurement method).

Luxatemp does not contain BPA, metal or fluoride

Generally, long-term temporaries made with Luxatemp can remain in the mouth for roughly 6 months.

Temporaries can be repaired with LuxaFlow Ultra.