Event Details
This on-demand webinar is recommended for dental assistants (EFDA and non-EFDA assistants) as well as doctors.
Placement of posterior composite restorations is undoubtedly among the most technique sensitive procedures faced by the dental team daily. This course will discuss the components of a successful direct restoration from proper isolation techniques to current polishing methods, and how critical each step is to long-term success. Assistants and EFDAs will benefit from descriptions of basic adhesion, various matrix systems and steps of composite placement, finishing and polishing. Clinical tips and brand suggestions will be included.
Learning Objectives:
Define adhesion and compare/contrast 8 generations of dental adhesive systems.

Review criteria for properly placed matrix bands and wedges.

Discuss choices of materials and suggested technique for placing, curing, finishing and polishing Class I-V composites.

Recognize most common areas of composite failure.
Your Instructor: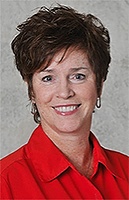 Theresa Groody, M.Ed., EFDA, CDA, has worked in the area of clinical and academic dentistry for four decades. She teaches EFDA Lecture and Laboratory courses at Harcum College, in the Philadelphia area, employed as the Director of Professional Studies. In 2018, Ms. Groody was reappointed for a second term serving in the newly created EFDA position on the Pennsylvania State Board of Dentistry. As an appointed curriculum consultant for the American Dental Association's Commission on Dental Accreditation (CODA), Ms. Groody conducts site visits for assisting programs across the country.